The classes 
Released Time is a positive, richly informative experience for the inquisitive child. Through posters, games, songs and stories, it shows children the joy of Judaism.
At the same time, it teaches boys and girls, not just how to observe our Holy Days, but why and what they are all about.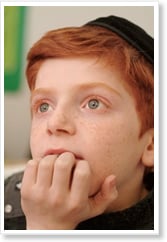 It offers Jewish youngsters the opportunity to grow up happy secure and aware of their identity as Jews.
Your child has the right to know what it means to be a Jew and what it means to have a relationship with G‑d.
Psychologists and educators agree that a sound religious education is the key to developing healthy character traits. As parents, you are the ones who build this foundation for future happiness. Fortunately, since its inception in 1941, Released Time has been helping Jewish parents meet this precious obligation.
Released Time is not a program for the privileged few... it's a right granted to every Jewish child attending Public School, by the Supreme Court of the United States . It is the right to take advantage of the hour a week set aside for religious education without penalty. And, under the auspices of the NCFJE, the Released Time Program is available to all Jewish children absolutely FREE!